08/06/2015
FORE! No Make That 5 Reasons Why Branded Golf Products Work
For many people, golf is the sport of choice and leisure. While watching any number of sports may be a lot of fun, golfing often is a way that many people choose to spend much of their free time outside of the their busy world of work. Taking the time out of a busy work schedule is a must, to unwind and have much needed time to enjoy the outdoors and if you ask any golfer they will often remark that part of the reason they like playing golf is that the sport is a way to remove the mind from day to day cares.
Giving away a branded promotional product can work at its best affect when you catch the attention of the receiver when they are at their most relaxed. It is a proven fact, a majority of those who enjoy playing golf for the sheer fun of the sport may also be spending time with business contacts, it's where they interact outside of a business environment however a solid business relationship can form whilst taking part in a common interest. Building business relationships outside of the working playing field has proven to work.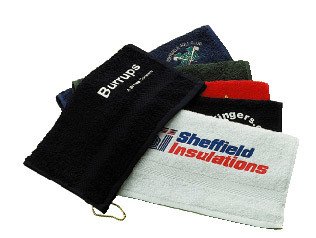 Those who enjoy the sport certainly revel in the social aspect of what it provides. Receiving a branded golf item you certainly know it will be used on a numerous of occasions. The most successful branded items that ensure maximum marketing exposure are those that can be utilised time and time again. Branded golf balls are the most popular as they guarantee to drive your logo across the course and showing it off to other players in the process. If they lose the ball, that can be considered good news for you, as now the lucky finder will be well aware of you, your company and your logo.
A memorable day is a great way to ensure that those fond memories are linked to a brand that helped make it happen. Sponsor a local golfing event with branded giveaways such a golf forks, tees, golf towels and many more, and make your marketing count. Sponsorship local sporting events tell people that you take an interest in their work as well as in their play, and that says more in today's business climate than you realise.
Golf etiquette is an extremely important part of the sport, from the manner in which you have to compose yourself on the course down to the tidy well tucked polo shirt into your trousers. Any promotional golf item that can be worn or carried is a walking billboard so giving away branded polo shirts or baseball caps is a great way to get your brand name out to a wide audience for potential business relationships to develop.
We have a great range of golfing items at Redbows all of which can be supplied printed with your logo. Let us know the quantity you need and budget you are working to and we can help to make your golfing even a smashing FIVE!