07/02/2020
Product Highlight: 450ml Oregon Black Travel Mugs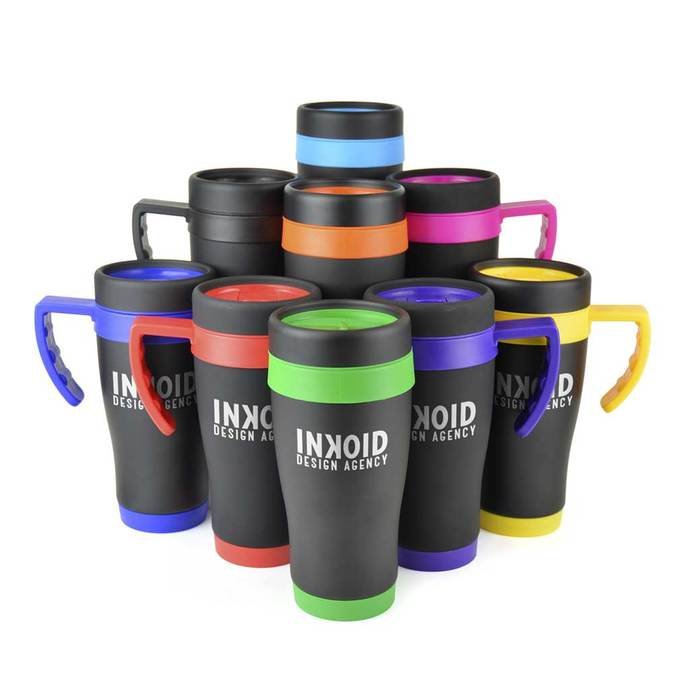 Part of a wide collection of Promotional mugs from Redbows – the 450ml Oregon Black Travel Mugs has a coloured PP plastic interior, base, handle, top band and screw top lid with secure sliding sipper. The handle has even been manufactured to be more rigid for enhanced grip. BPA and PVC free. Available in eight stylish colours: Amber, Black, Blue, Cyan, Green, Pink, Purple, Red and Yellow. The colourful yet classic design compliments the vibrant trim colour scheme.
At Redbows, we individually laser engrave and personalise each Oregon Black Travel Mug. Your name will be applied to the front of the bottle as per supplied artwork. Our displayed pricing includes the cost of engraving to one position. With Laser Engraving the artwork is etched directly into the surface of the mug using a laser. The technique creates clean lines and a premium look. Laser Engraving is perfect on metal, glass or wooden products.
Printed Travel Mugs are one of the best branded gifts for companies looking for mass exposure, and a positive brand reputation. This is because branded travel mugs are taken to coffee shops, offices, conference centres and events. Members of the public may take note of the name or logo and become customers themselves. Travel cups can be used at any time of year when you want to take a hot drink with you. Ideal for picnics, road trips or sports games.
These mugs help protect the environment as they can be used for takeout drinks at cafes and coffee houses that allow customers to bring in and use their own mug. We also supply Thermos Flasks, Bone China Mugs and Ceramic Mugs. Encouraging the use of travel mugs will show a commitment to ethical business and reduce the amount of waste throw-away drink cups create. No one wants to see bins piled high with takeaway cups at an event or in the office. It looks untidy and shows a lack of care for the environment.


Product Specification:

Product Size: 180×85mm dia.
Engraving Area: 60×50mm
Colour Options: Amber, Black, Blue, Cyan, Green, Pink, Purple, Red
To enquire about product personalisation or specification please contact our sales team on 0800 158 30808. We supply a number of different finishes including colour, paint and recycled options on selected mugs. Promotional mugs are one of the most popular pieces of merchandise in the market (https://www.bpma.co.uk/). Order today for delivery in 5-10 working days from artwork approval.