21/04/2021
Tea Parties Help To Promote Organisations and Causes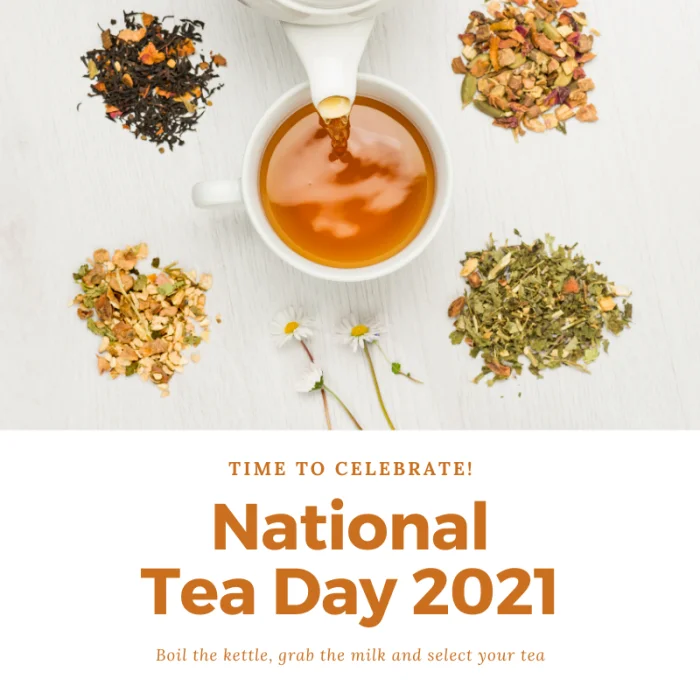 Celebrate National Tea Day with us!
We offer a wide selection of tea products along with various branding options including full colour printing, screen printing and laser engraving. Around 84% of the population drink tea every day. As a country, Britain consumes approximately 100 million cups every day, which is almost 36 billion cups every year. Green tea and black tea are sourced from the same plant called Camellia sinensis and contains half the amount of caffeine in coffee. (Source: https://www.tea.co.uk/tea-faqs)
National Tea Day was founded in 2016, the date of April 21st, and was chosen because it's also Queen Elizabeth's birthday.
How to Celebrate National Tea Day
Host a virtual afternoon tea
Gather your sandwiches and sweet treats and share your passion and knowledge of tea with family, friends or work colleagues, particularly those who are unaware of the variety of tea options available on the shelves nowadays and the multiple health benefits. Green tea is full of antioxidants and gives you a more stable boost of energy than coffee.
Share on Social Media
Share your love for tea on social media with the hashtag #nationalteaday and join millions of people debating the best way to create and enjoy the perfect cup of tea. Check out the latest tea gadgets and trends in the industry.

Learn the history

In 1662, England, Catherine of Bragaza married King Charles II and in her dowry was several crates of loose leaf tea, which she drank every day. The royal court promptly adopted the practice. However, the invention of tea is closely associated to a mythical figure in Chinese legend called, Shennong more than 5000 years ago. (Source: https://nationaltoday.com/national-tea-day/)
Tea parties are an age-old tradition in which friends and family gather to catch-up eating scrumptious little treats and drinking the finest tea available today. But a tea party can be much more than a gathering of friends it can also be a delightful networking opportunity. In fact, many people who represent charities, small businesses, and even political parties gather for tea socials to share information and gain new associations. We can help make your next tea gathering even more successful with providing you with a host of promotional items that you can design and use in a tasteful manner.
Personalised Tea Bags
Every tea party has tea and tea is generally found in the form of a tea bag. So why not offer tea bags that have been personalised with your charity's logo or the name of your business? Our tasteful and flavour filled tea bags are perfect for customising with your design. Your customers will undoubtedly notice the designs on the tea bag's label which will lead to discussion about the logo as they sip their tea.
Customised Travel Mugs
Being Eco-friendly is important to many supporters of local charities and businesses. This is why we offer promotional travel mugs online. These promotional travel mugs are great for personalising and using during any social gathering as a way of quietly promoting the reason behind the gathering. They make great take-home gifts following the gathering as well.
Designer Coasters
Promotional coasters are a must for the protection of any service against the scratches or marks that can be left by a mug or tea cup. The hard top coasters found on our website are perfect to advertising your cause while protecting your furniture. Have several of these available at your next tea party for people to use as they learn about and discuss your charity or business.
Our favourite products
One of our favourite products is Tea Bags with tags printed with a full colour design or logo on the front with the option of a branded tag at an extra cost. Branding is available on both side of the sachet. Additional flavours available include lemon, tropical fruit and forest fruit.
Americano mugs are a long-time favourite in the marketing industry. Used as an eco-friendly alternative to disposable coffee cups, Americano travel mugs can be branded on the silicone grip or alternatively as a wraparound print to the mug itself. Available in a selection of popular colours to suit any brand or logo. Mix and match the lid or go completely bespoke. Request a free virtual visual today by sending in your logo to our sales team.
Go on an epic camping adventure this summer or a picnic event with our Enamel Mugs available with a direct print in White, Black, Red or Blue with a silver rim. The minimum order quantity is only 60 pieces. Brand with your imprint or logo and send out to clients as a great marketing opportunity.
We can supply different sizes of branded napkins including smaller cocktail napkins and napkins for substantial meals including lunch and dinner. The most common print method is to apply an imprint using a pad or screen printing. Our napkins can be recycled and turned into other useful recycled paper products. The number of teas available in the shops are endless. However, differences are made by how the leaf is processed, the weather conditions for growth and the location of the plants. Herbal teas are slightly different to black, green and white, as they are infusions of other types of plants such as chamomile or peppermint leaves. The popular drink is hydrating as its 90% water!
A survey conducted of more than 2000 adults across the UK, found that younger adults aged between 18-34 are more likely to make a hot drink during the day than before the start of lockdown, as working habits changed. Juggling Zoom calls, remote working, home schooling or online events, has meant younger workers are now taking tea breaks to cope with working from home. (Source: https://www.tea.co.uk/news/article/our-lockdown-love-affair-with-tea-is-here-to-stay) Whatever you need for your tea parties and events, we are sure to be able to help.
---
For more information on our tea collection range, please contact our sales team on 0800 158 3080 or contact us by email: sales@redbows.co.uk
Alternatively, you can find all of our products, prices and templates at www.redbows.co.uk/promotional-tea-bags