20/02/2015
What Are the Best Golfing Items For A Corporate Event?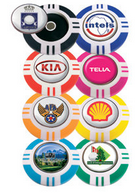 Corporate golf days are a great way to spend time with your clients and prospects. They also provide a super branding opportunity for your organisation using items around the golf course like golf pin flags and banners and the branded golf items you give out to players on arrival at the course.
So what work's best? Traditional favourite golfing items or the latest new products? The answer to this lies perhaps in the history of golf itself. The origins of golf may be unclear but it is generally accepted that the modern game developed in Scotland in the Middle Ages.
Golf revolves around some fundamentally basic rules and tools. In terms of promotional golfing items old favourites include branded golf balls, wooden tees, pitch forks and ball markers. Often we supply these as individual items or as part of a golfing gift set. Other items include golf shoe bags and towels. The new golfing items that come along are actually just variants of these.
Sometimes a new golfing item can become a best seller. Take for example Casino Ball Markers. As the name implies they are ball markers for those golf players lucky enough to get onto the green and near the pin. The spin on this traditional product is to make them in the form of Casino chips, adding a bit of Las Vegas and perhaps the odd gamble and wager to the game.
The golden rule therefore when choosing promotional golfing items for your next corporate golf day is to choose the majority of your gifts from amongst our best sellers. If you want throw in a unique item, we can always find this for you and something matched specifically to your brand and event. This is the best approach to promotional golf merchandise and will ensure that your golfing event is a great hit with everyone who attends. Having your clients leave happy is the main priority and if they continue to use the golfing merchandise long after the event you have achieve a double success.