30/10/2017
Halloween Marketing: Is it a trick or treat?
Halloween is approaching like a ghost in a kid's film; quickly and dramatically. The focus as with most holidays is in the build-up to the event and popular brands like Asda and Aldi have utilised the hype that surrounds the holiday. Their multiple TV adverts and social media campaigns have helped emphasise the power of Halloween marketing and the opportunities available for businesses.
There are many marketing activities you can choose to help advertise your brand but I'm going to focus on two marketing campaigns that have captured my attention before suggesting one for your company.
Asda: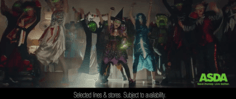 Advert: The Asda advert begins with a green strike of lightening manipulating the house's electricity and possessing a young girl to dance and sing along to Halloween music. When put like that the scene is quite sinister but the overall effect is a fun advert with a catchy tune. The advert ends with the girl's green eyes transitioning into the logo above an Asda store. This is where the brand identity is revealed and solely focused on.
Conclusion: For a well-known supermarket like Asda, creating a fun TV advert where the products are shown and not highlighted may be more beneficial than the other way around. This way the advert will be shared across social media platforms and liked due to the fun childhood aspect. It will create greater brand exposure rather than potential sales and whether that is right or not depends on your business.
At the end of the day, Asda have created a fun advert that will make their customers smile. My issue is that the overall message is lost in the creation of the fun advert. I question what information I've gained from watching and if I think about it, very little. Product prices aren't shown, and really neither are the products but perhaps a minimalistic advert is what they were going for. Maybe the public are already aware of what's on offer at Asda and that's why they don't need to highlight their products.
Aldi: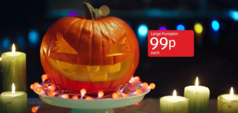 Advert: The Aldi advert focuses more on the products available, finishing with the brand image at the end. The advert begins with two children magically changing into Halloween costumes with the Aldi price appearing alongside them. It then goes on to show a pumpkin and various Adult Halloween costumes at similar low prices. This is all created with the Adams Family theme tune playing in the background.
Conclusion: Aldi have created a clever advert that showcases the products you may not associate with Aldi. Pumpkins, Halloween costumes and Haribos are all available at very low prices. This is the message that is portrayed, and it is easily interpreted compared to Asda's. Maybe it comes down to personal preference or simply the Adams family theme tune but in my opinion Aldi have created a rounded advert that combines both brand and product exposure.
What do you think? Have we crowned the right winner? Leave your thoughts in the comment section below.
Your Halloween Marketing Campaign:
If you haven't created a marketing campaign for Halloween and you're searching desperately for the perfect idea, we may have a suggestion. Social media is great for low-cost marketing, so we recommend a Halloween Pumpkin Carving Contest. The method and execution are simple. Create a post with the following rules and let your followers scramble over Halloween pumpkins to collect your prize.
Step 1. Carve a fantastic pumpkin
Step 2: Send us a picture on social media and don't forget to tag us!
Step 3: Wait until Halloween to find out whether you've won our fantastic prize.
All you need to do is reveal who won on social media. The prize can be anything from discount vouchers to a hamper full of chocolates. Competitions are a great form of marketing and with social media they are easy to advertise. The focus will be on your brand and customers will engage with your social media account to win.
To help we have created a quick graphic to promote your competition.
Happy Halloween!