19/05/2015
Giveaways For Festival Goers This Summer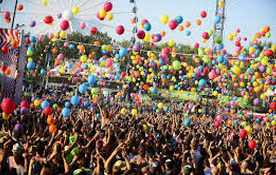 Festivals and outdoor events attract a vast amount of people, so it's no wonder brands want a slice of the festival pie. The effectiveness of brand activity at such as events is huge, associating your name to such a positive, enjoyable experience will ensure your name gets seen…and not forgotten.
With festivals through the feel good warmer months what better way to reach out to thousands of people than by using branded promotional products? Each year it seems that there are more and more festivals and outdoor events occurring around the UK from May until the end of September, providing an unmissable opportunity to raise your business profile. Corporate sponsorship is a fantastic opportunity to brand your details or logo onto a wide range of products for festival-goers, who may I say it all love a freebee to take home as keepsakes. Festivals can allow brands to reach out to a totally new audience and provide huge exposure in a short space of time.
The art of marketing is the art of brand building and what better way to do so when people are at their most relaxed and happiest. Alcohol brands are a natural fit for music festivals and Strongbow ran some extensive activity at both Isle of Wight and V Festival in previous years. A 'Bowtime' bar was created by experiential agency RPM and brand ambassadors were tasked with handing out giveaways, spreading the Strongbow brand as far as possible throughout campsites. The Bowtime bar marquee had a clear Strongbow feel, with branded bar stools and beanbags for visitors to relax on and table football branded in Strongbow colours. Visitors to the marquee over the two events reached over 100,000, drinking over 500,000 pints in total. Promotional giveaways numbered 30,000 and the Facebook group attracted 3,000 'fans'. This sort of result clearly demonstrates the value of investing in branded merchandise for distribution at well targeted events. The investment you put into your brand, at the right time, in the right way, to the right people, is sure to create a buzz.
Essential items have to be lightweight and portable, and our mini packs of first aid items, toiletries and even 'hangover packs' can be printed with your details to hand out on site. Creating a positive brand association with a beneficial item they can use at the event and then take home will ensure they remember the gesture. Our extremely popular plastic stadium cups with a straw are great outdoor event giveaways, convenient in many ways that everyone is bound to want one.
Create a momentum that everyone will not forget. A great inexpensive promotional giveaway that is always popular amongst all age groups is the silicone wristbands. An uber cool keepsake that it has been proven to be worn for months after the festival has ended. This allows for your brand to be seen far beyond the event itself.
Festivals can be wonderful family events to, so why not brand your details on activity packs for kids, plastic fun ducks, soft frisbees and balls, or protective sun hats and earplugs to hand out to those who require them. Don't miss a great marketing opportunity this summer. Call the Redbows team on 0800 158 3080 or visit www.Redbows.co.uk for some great giveaway products.