23/04/2015
April's Thought - Think Desktop Calendars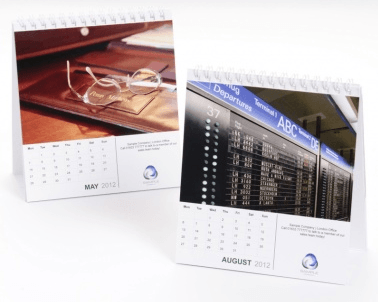 You may not think April is a good month for planning promotional calendars for the next year but it most certainly is. Desktop calendars are one of our best selling and most useful promotional gifts.
Desktop calendars appeal to people who, for a number of reasons, run their lives by dates and appointments. Receptions, Sales and service engineering desks are prime examples. Even though employees and people in these environments have access to their Microsoft Outlook calendars and whatever IT-based diary system their organisation uses, nearly everyone we know always likes to have a printed calendar on their desktop or a wall calendar nearby.
There must be some psychological factors at play here. Maybe it is just the easy way the eye and brain connect to process the information. Whatever the reasons, desktop and wall calendars are sure fire winners in the promotional gifts industry. The merchandise, branded with your logo offers longevity and at least a year of advertisement for your brand. They are used and become relied upon. More so their size, whether A5, A4 or even larger provide a super advertising space for your company and marketing message.
Off course we supply desktop and wall calendars with specific print areas but we can also provide fully customized backgrounds. We have clients who collect photos to use through out the year of their installations to use in their next calendar run. Other clients use the individual month pages to promote a specific product or service they supply.
Even as we move into an era of wearables with the Apple Watch, I am one of those people that will always turn to a paper-based diary or desktop calendar. They are just to convenient and no amount of electronic gadgetry will replace that functionality or promotional space.
So why April? Well, you're 8 months from January. Take off two months to send out diaries and promotional calendars to clients and for Christmas and you have 6 months to finalise your design, photo selection, imprint message and calendar project. Furthermore, our printers offer an incentive to order printed diaries and calendars and at better prices than can sometimes be achieved during the autumn/winter period when everyone is chasing limited production capacity in the printing industry.