06/04/2015
Internet Marketing Is An Imitation Game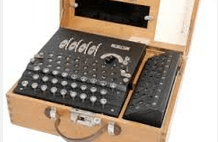 The other day I watched the Imitation Game and wondered at the brilliance of Alan Touring's mind. The man who designed the machine, that broke the German encrypting machine 'Enigma'. The analogy with internet marketing and search engine optimisation is 'uncanny'. SEO as it is commonly known has always been a sort of warfare game between website owners who employ SEO consultants to get their websites to rank highly for search terms and search engine algorithm coders who trying to generate the 'purest' result and listings; without gaming.
In recent years the search engines like Google have dealt almost deadly blows to the SEO industry. The premise for good search engine rankings are disrupted in game changing algorithm updates with cuddly toy names like Penguin and Panda.
Once it only mattered as to whether you stuffed keywords in the right places that the algorithm would look and had plenty of links back to your website. Run this practice now and you stand a chance of a penalty that your website may never recover from.
Today's internet marketing is all about content strategy and social mentions. Website marketing now seems to follow more purely marketing as it exists in the off-line world of space advertising in magazines, editorials, public relations, sales promotions, coupons and giveaways. Marketing on the internet is now about your band, where and how many times you are mentions, client reviews and quality links from theme focused websites within your specific industry.
Is the SEO industry dead? Almost. What Google has done is drive out the spammers and cowboys who knew little about marketing but a lot about hard pressure selling. They signed up clients and tool their money but added very little long term value to their internet marketing activities.
For many organisations and companies websites are now an integral part of their marketing communications mix. Websites need to be viewed as the primary advertising tool and invested in accordingly. This means taking a long-term approach to marketing and brand building, producing good quality website content and promoting in the most ethical and socially acceptable ways possible.
For more information on what we do for clients looking for content marketing at Redbows please call us for an informal chat on 0800 158 3080.