23/06/2015
Summer Finally Arrives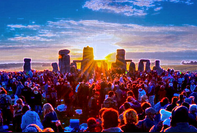 The summer solstice, the longest day of the year occurred over the weekend, which officially means summer has arrived. The solstice happens when the tilt of Earth's axis is most inclined towards the sun and usually occurs on 21 June, but can also occur on 20 and 22 June. With summer months destined for lighter hair, darker skin, longer days and larger smiles, make the most of these warmer days with promotional gifts to reflect fun and good memories.
I don't care what anyone says – summer is the best time of year. Maybe I'm still associating it with the freedom I felt as a kid on the summer holiday break being free from school for a 6 week stretch…but when the sun is shining bright, shorts and flip-flops are daily clothing requirements, the flowers are in full bloom and the birds are in full chirp, and barbecues and poolside parties abound, I tend to be a pretty happy camper, and I am more than sure that others to feel the same.
Regardless of the season, everyone is also constantly on the lookout for free goodies. Why not combine these and create some cool giveaways to hand out to your customers. Free gifts and giveaways are one of the most enduring tactics used by brands, and it is easy to understand why. No giant leap of faith is required to believe that individuals will think of a business more favourably if they have been given something free. There is no better time than summer to give your clients something to remember you by on those family packed days out enjoying the lovely weather. Summer is a time where people are at their happiest, out at the park, at a family BBQ, picnic down by the beach, the opportunities to get your brand seen are endless. Summer offers companies an opportunity to create whimsical and entertaining promotions with products that the recipients will certainly use immediately. An effective summer promotion plan includes timely products that employees and customers are sure to use right away.
Get Ready for Summer Fun and Giveaways
Some promotional items, like writing utensils and custom stationery, have perennial appeal. But summer offers businesses a great excuse to spice it up with fun promotional products that recipients can use during weekend outings and vacations. Help customers and employees make healthy choices about sun care with pocket- and purse-sized sunscreens. Some mini-bottles even come with carabiner-style clips so they can be attached to golf or beach bags. Speaking of beach bags, consider branded canvas bags for those leisure trips to the beach, they can also double as reusable shopping bags during the rest of the year. Another great promotion is to fill those beach bags with inflatable beach balls along Frisbees are also an excellent choice for some summer entertainment. Everyone is bound to have plenty of fun whilst constantly being reminded that your company was the one to help.
The big question is your return on investment, or ROI – is it worth the cost of creating these materials to have your brand plastered all over them? Something like water bottles can be as cheap as 60-80p and are likely to last a while. It's hard to put quantifiable impressions on promotional materials, however, so consider a small spend to toe the waters first. Encourage customers to stay hydrated and protect the earth with branded reusable water bottles for a fraction price. Summer is all about enjoying simple pleasures, get your clients involved and give them a summer to remember you by.
Whatever your plans for promotional giveaways and goodies, call the team at Redbows on 0800 158 3080 and let us help you make the most of this summer's promotional opportunities.