22/01/2018
The Top 5 benefits of Advertising Gifts and Marketing Products
Below we have listed the top 5 benefits of advertising gifts and marketing products. Increasing your understanding of the benefits is an important aspect to any successful marketing campaign. Researching your target audience and selecting the right product for your business are also important developments. A study by the PPAI, Marketing Products Association International (PPAI) revealed that '83% are more likely to do business with a company if they have received a marketing product from them'. These findings highlight the necessity of advertising gifts in the marketing industry and their effective role as an advertising vehicle.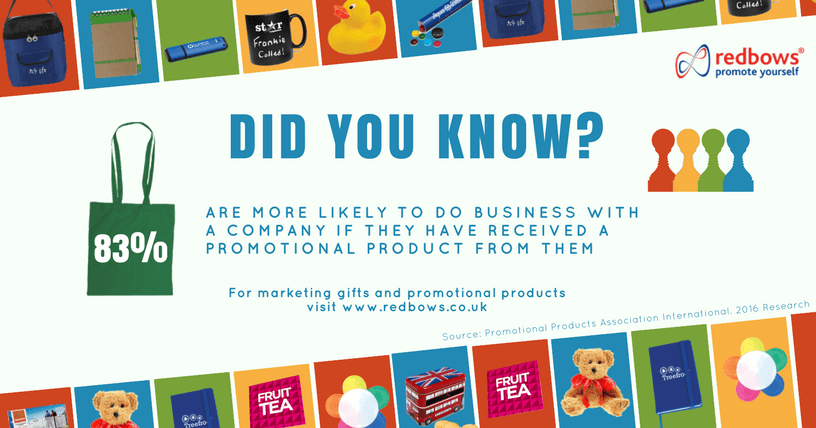 We have a wide range of marketing gifts available for every campaign, business and promotion. Simply browse through the product menus above and select the category that appeals most to you and your business. If you can't find what you're looking for, please contact us on 0800 158 3080 or email sales@redbows.co.uk for more information.
Do Advertising Gifts work?
When asked 'Do advertising gifts work?' My answer is always yes. You may think that's because I work in the industry but the insight I receive on a daily basis helps me understand their importance to any successful marketing campaign. The trick is to select a product that your target audience will find useful. This will increase the likelihood of them buying something from you as the longer they keep your marketing gifts the more exposure your brand receives.
Your customers will ask themselves two questions when handed an advertising item; do I want it? and do I need it? If the answer is 'yes' to both, then you're a winner in the short and long term as your customer will decide to place the product in the safety of their bag, car, home or office. From there, it will play on the subconscious of the individual by advertising your brand without the consumer even realising it.
It's all about finding the 'right' product for your target audience and sometimes it's as easy as – 1. Selecting a product – 2. Approving your Artwork and 3. Awaiting Delivery
What are the benefits of Advertising Gifts?
It is becoming increasingly evident that advertising gifts are one of the most powerful forms of advertising as found by the PPAI study. The brand exposure created from a customer simply picking up a product at an exhibition or event can sometimes be greater than the remaining advertising channels combined. The item may be taken home and placed in the kitchen or at work, on a desk. In both cases, the item is placed somewhere it will be seen daily.
The driving force behind this multi-million-pound industry is that your advert is in the hands of your customer rather than on the screen in front of them. The repercussions from a simple act such as this are immense.





Who doesn't love receiving something for free? Whether it's a free chocolate with every purchase in store or a branded calendar in the post, consumers appreciate the products handed out by a company, even if they are forms of advertisement. Instead of spamming your customers with emails regarding the latest deals or calling your clients with potential offers, you can put something in the hands of your customer and let them come to you.
1. Advertising gifts are excellent Ice Breakers at exhibitions and events
Do you want to attract customers to your stand? Advertising gifts start off the conversation. Simply point your customers in the direction of their free giveaway and you're halfway there. Start speaking about your company and what you offer and listen to what your 'potential' customer has to say. Without realising it you will have started a conversation that may not have happened if not for your giveaways. Leave the event feeling satisfied that your products will continue to work for you even after your long journey home.

Engaging with customers is an essential part to any successful business. Experience in the industry reveals that people are more likely to visit a stand at exhibition or events if 'free giveaways' are involved. Sometimes marketing gifts are the difference between a customer passing your stand and listening to your pitch. Marketing products help businesses engage with their customers and consolidate future sales. They are essential at exhibitions and have become a necessity within the advertising industry.
2. Advertising Gifts and Marketing Products help create strong client relations
Thanking customers for their continued business is not only excellent customer service but essential in building strong customer relations. The average customer will search for the lowest price from the quickest competitor, regardless of previous dealings. So, with competition between businesses growing fiercer by the day it is now more important than ever to consolidate these relationships. A study by the PPAI found that consumers who received branded gifts were more likely to 'increase brand loyalty'. This means that consumers appreciated the kind gesture and associated this good feeling with your brand.





At the end of the day, customers choose to do business with you and thanking them for their orders is a great show of appreciation. Your customers will be grateful for the free gift and they will want to continue doing business with you. It shouldn't always be 'business is business' especially with customers. Being polite and friendly can sometimes get you a lot further than were you were previously.
3. Advertising Gifts increase sales enquiries and attract new customers
The length of exposure a marketing gift achieves determines the level of influence it generates. The PPAI found that 'Roughly eight in ten admit to looking up the brand after receiving a marketing product from a company.'





When a product is assigned a call to action such as phone 0800 158 3080 or email sales@redbows.co.uk the success rate of the product increases dramatically. This means that customers are more likely to buy something from you, if your website or phone number is printed directly onto the product. This additional information enhances the success rate of your marketing products by increasing enquires and attracting new customers to your website.





The PPAI study also revealed that 81% of customers keep a marketing product for more than a year. This vital time after the event ensures that your company message is seen. This benefits your business because the longer a customer retains your product the more exposure your brand receives.
4. Cost effective Marketing Tools
Drown out the sound of TV commercials, radio jingles and video promotions and listen to the impact of an advertising gift being placed into the hands of your customer. There's no pushy voiceover or heavily documented storyline and yet your clients are more likely to buy something from you. In fact. "82%t of consumers agreed that their impression of a brand positively changed as a direct result of receiving a marketing product" as found by the PPAI study.





Redbows offer thousands of marketing products for budget-friendly promotions including pens, promo bugs, paper pads and cotton shoppers from 80p each! In terms of impressions, which is the number of views your ad achieves, advertising gifts guarantee your product is seen by 1 individual. If the item is placed on a desk at work, it could be seen by two, three or even the entire office.

Instead of shouting out into open space on social media and hoping someone sees your advertisement. You can guarantee impressions by handing out your advertisements to the people who are more likely to buy something from you.
5. Marketing Gifts help raise awareness of your brand
Sending out branded gifts can benefit your brand identity and help distinguish your business from competitors. The emotional response triggered from receiving a advertising product can help your business generate sales and raise awareness of your brand as emotions have been found to affect consumer buying behaviour, as found by the PPAI study.

The study found that the emotional response from receiving a promotion product varied with 71% happy, 52% interested and 46% thankful. Your customers will associate this 'happy, interested and thankful feeling' with your brand. So, the next time they come across your business, all the emotions will come flooding back to them, increasing the likelihood of them buying something from you.

According to the '2015 Nielsen Consumer Neuroscience Internal Study, advertising that produced the best emotional response generated a 23-percent lift in sales volume.' This highlights the idea that marketing products help generate sales.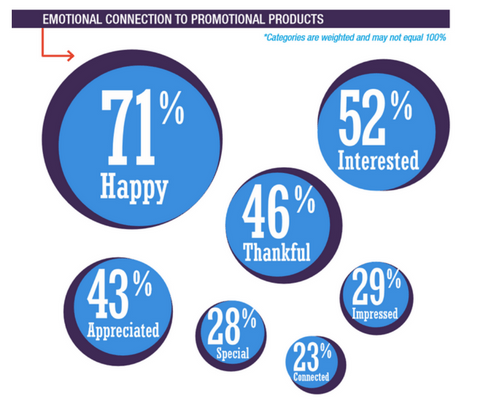 Summary
To summarise, advertising gifts and marketing products are excellent ice breakers at exhibitions and events, they help create strong client relations and increase sales enquiries. They are cost effective marketing tools in terms of impressions and they help raise awareness of your brand. With all that in mind why not take a look at our extensive range by clicking on the product menus above. If you need any further information, please phone 0800 158 3080 or email sales@redbows.co.uk
*Mapping Out The Modern Consumer – 2017 PPAI Consumer Study. Images and Article Accessed 22/01/2018. Available at www.//bpma.co.uk/resources/ Copyright © 2016 Promotional Products Association International. PPAI Research™. All rights reserved.