02/07/2015
Tips For Buying Your Branded Promotional Calendars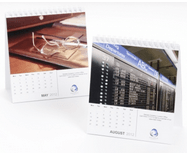 To get a great return for your investment in promotional merchandise you want a gift guaranteed to last all year round and be used and seen on a regular basis. Branded calendars are the perfect way to promote your company everyday, throughout the year and their reach is extensive when you consider who will be seeing them. The latest BPMA research shows them to be the third most often found gift on desks (after mugs and pens) with almost 37% of survey respondents able to recall the message and brand on them,
Not many people realise that the average person uses a calendar or planner approximately eight to ten times per day. This makes them a brilliant investment as a promotional marketing tool. At Redbows, we supply a wide selection of promotional calendars so you can choose which type of calendar best suits your company's marketing and branding needs. We've put together this handy guide on what to consider when looking for promotional calendars and remember that you should be buying now for the year ahead and in this case 2016:
White Space – Leave Some
It is important not to overload a personalised calendar with lots of information. There needs to be plenty of room for people to write in multiple events and appointments for the same day. Calendars with a monthly and weekly view provide lots of space for your company's branding, as well as allowing users plenty of room to scribble in appointments.
Typefaces and Fonts
Picking the right font type and size is essential to creating the perfect personalised calendar. The font should be clear and easy to read, even on the smallest of calendars. At Redbows, we will work with you to make sure your company logo and all your marketing messages can be ready clearly.
Branding and Personalisation
Adding a bit of personalisation (your logo, contact number, address, website and marketing message) to a calendar can have huge benefits. Firstly having your contact details close to hand can be very useful. Secondly, subliminal marketing with your logo always easily visible. Thirdly, people always look forward to the turning the page into a new month and seeing the next calendar image/photo. At Redbows, we specialise in creating personalised products for all your promotional needs. People like to see a company name and logo on gifts because it adds a personal touch. They know exactly who it was that gave them that gift. All of our calendars can be printed with your name and logo, enabling you to add a personal feel to your promotional gifts.
Print in Colour and Preferably A Digital Print
With technology advancing the way it has over the past few years, it is now increasingly easy for gifts to be printed in four spot colours. You can print your branding in all its glory and let your logo stand out with four colour printing. Our promotional calendars can be printed in up to four colours to make sure your brand looks the best it can. We can also digitally print to include your company name or logo as part of the digital image. This type of calendar is very effective.
Desktop Calendars
Most business people enjoy having a personalised desk calendar next to their PCs or laptops. You'd be amazed how useful this is for people running receptions and service diary desks. Somehow they find a paper-based diary easy for quick reference in preference to their digital one. A desktop diary allows them to quickly mark important dates and write in appointments quickly and easily. All remember promotional desk calendars are more reliable than PCs and IT networks. They won't crash on you and lose all your data and appointments.
Calendar Size and Format
It's important to think about what size calendar would best suit your company. Smaller promotional calendars and planners have become more popular. They take up less desk and wall space and can fit inside working cubicles Larger calendars are ideal for more open work spaces, offices and work shops.
If you're looking for a promotional gift that can be used all year round, then invest in our promotional calendars today. Call us on 0800 158 3080 for a free sample or to discuss your promotional calendars project for 2016 and remember that diaries are also a great giveaway.