28/08/2015
Top Tips for Marketing with Branded Mugs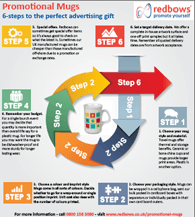 With autumn and winter approaching, it is time to turn our attention to one of the best products for this time of year – mugs. No matter whether you're on the go or in the office, we all need a good cup of tea or mug of coffee and sometimes more than the odd one during the day. The choice of coffee mixes and syrup mixers continues to grow as does the choices of teas but one thing always remains the same – you need something to drink from and often it is a personal favourite. Get your promotional mugs right and they can really promote your organisation. Here 6 of our best tips to get the most from this exceptional advertising product. For more information click the image to enlarge the infographic.
Choose Your Mug Style and Material: we are fast becoming a nation of coffee drinks with all sorts of coffee mug styles and sizes now available for drinking your favourite coffee in home, office, café or 'on the go' environments. Travel mugs offer thermal and storage benefits. Traditional coffee cups or mugs can provide larger print areas and all-around wraps. You could also choose between ceramic (earthenware) or bone china mugs, plastic or aluminium mugs.
Choose Your Packaging Style: mugs can be wrapped in a cellophane bag, sent our bulk packed in cardboard boxes with separators or individually packed in their own card board outers with moulded polystyrene inserts for added protection. Give some thought as to how you will deliver your chosen promotional mugs to make sure they get there safe and secure.
Choose The Right Colour and Imprint Style: very important for your logo and imprint to make an impact. Mugs come in all sorts of colours but choose the one that will give the most contrast to your logo so it stands out. Give some thought to your imprint size and decide whether to go for a wrap-around known as a 'wrap-print' or single position. The more colours you print the more expensive the mug unit price will be.
Remember Your Budget: it's always important to set a budget and to include all the projects costs in it. Our specialist expertise can help you maximise your budget. Some things to think about include the how long the mug is to last for. For a single launch event you may decide that quantity is more important than overall life say for a plastic mug. For longer life you may want the mug to be dishwasher-proof and more sturdy for longer lasting wear.
Special Offers: we can sometimes get special offer items so it's always good to check on what the latest is. Sometimes our UK manufactured mugs can be cheaper than those manufactured offshore due to a promotion or exchange rates. Our UK suppliers may also have plain mugs in stock that they can discount further for us to print your logo on and maximise your quantity:unit cost metric.
Set A Target Date For Delivery: when planning a promotional mugs campaign, always work backwards from 2-3 days before you actually need them. Why? Well there are lots of options to choose from and you do need to get your artwork ready. We offer a complete in-house artwork surface and one-off print samples but it all takes time. Remember all quoted delivery dates are from artwork acceptance.
For more information on the Redbows promotional mugs please see the options on our website or call us on 0800 158 3080.