26/02/2015
Use Chocolate Easter Eggs To Energise Your Marketing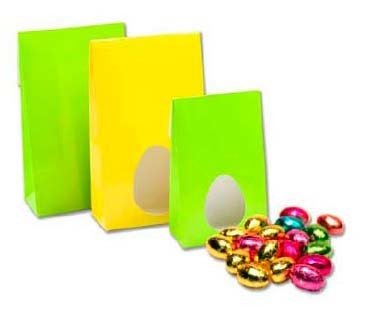 Easter is probably the biggest marketing holiday in the year after Christmas and so provides a great opportunity to kick start or re-energise your marketing before you hit the summer period. Off course the biggest thing Easter is associated with aside from its religious significance is the chocolate.
For promo marketing companies like Redbows the run up to Easter is one of the biggest in the year. This is because of the wide range of Easter Chocolates we have available for clients to use in their marketing campaigns. How far you go in marketing with personalised Easter chocolates is very much your decision. We have traditional chocolate Easter eggs available in all sizes, multi-packets and single chocolate eggs that can be packaged with a mug.
In terms of personalisation and branding, again our various Easter chocolates provide a multitude of opportunities. These range from printed tags to full colour printed foil wrappers and cardboard outers. In 2013 Mercedes-Benz actually used camouflage printed Easter Eggs in a direct mail to US solders, promoting a test drive for their cars.
Aside form simply mailing Easter eggs to client you could also look to create events and opportunities to engage with clients. Easter egg hunts are a family favourite but why not organise one for your company and workforce and base it around a theme that you want to promote such as energy saving or health & safety. Another marketing opportunity would be to sponsor an event with a local sports club or school.
Corporate branded Easter eggs are also a great motivator for people in a company. Take the time to choose the right Easter chocolates for your staff and get them branded appropriately and delivered to their desks or personally handed to them. The positive impression this will leave with your staff is often impressive. You could also run an Eater egg competition for your staff or clients such as guess the weight or chocolate mix.
That's the final point. We often think about milk chocolate Easter eggs but we can also supply different types including dark and white chocolate, Fairtrade, diabetic and lactose free. Everything is possible with chocolate Easter eggs from Redbows.