28/05/2015
Use Facebook To Market Your Business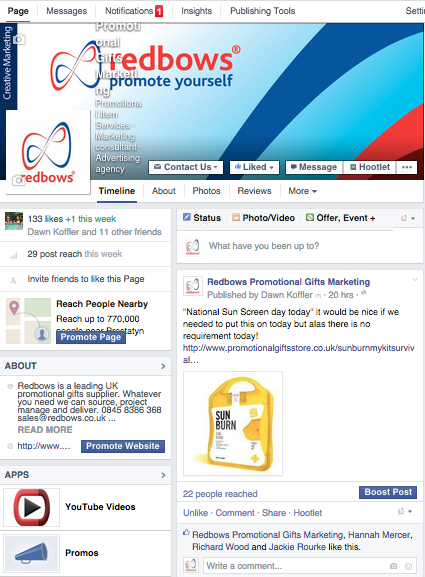 Facebook can be one of the most important social media tools you could use to market your business. Over 1.5 billion users globally use Facebook daily. Thanks to their profile scanning, Facebook can offer a number of ways to reach out and promote your brand, products and services to a selection of these user but what could you do without spending money on advertising? The answer is to keep posting regularly and fresh content that reinforces your brand and enhances your marketing communications program.
There are many ways to promote your company on Facebook and we have found these to be the best. Remember to make sure that the content you post is fresh and will really engage with your audience. Tie in promotional giveaways and promotions to really drive business leads, conversions and orders.
Competitions and Giveaways: one of the fastest way to go viral and generate attention for your business Facebook page. What you offer should be relevant to your business but try to be a little quirky and to get people to think outside the box. Make sure your giveaway prize is of value and that the terms and conditions are clearly visible to avoid any confusion. When you select a winner, share them.
Product Features: one of the most obvious things to do is to post about your latest products or services. Facebook is great for this. Upload a photo or video and link to a page on your website. Make sure the photo is high quality and provide a link for more information or to generate a sales enquiry. Make it suitable and show brands that you have sold this product or service to. Remember to use #Hashtags and link your Facebook posts to your company Twitter account.
Personality Posts: make you Facebook business page interesting. Show something about

YOU

and your team. It can be fun showing what you do outside work. Share team news, family news, new recruits, happy leavers, holidays etc. The list is endless. Think outside the box and find news articles to share that may link to a hobby or have a connection to what you do at work. Use an infographic or get your design team to generate a cartoon perhaps.
Brochures, Catalogues and Newsletters: just released a new brochure, then post the news to Facebook with a download or order link. The same goes for the issue of your latest newsletter. Share news like this on your company Facebook page to demonstrate credibility and build your brand profile.
White Papers: if you can write an article or paper on some aspect of your industry post a link to your company Facebook page. This is a great way to share the information and grow your industry leadership position.
Loyalty Rewards: create a loyalty offer just for your Facebook fans that gives them something special and can be shared on Facebook. Perhaps a special promotional discount for an on-line order or coupon they can use as an incentive to purchase or request more information about a product or service.
The above suggestions work but they are general guidelines. Remember to make your content relevant to your audience, on-message with your marketing communications objective, appealing and fun. If you would like further information, contact the Redbows marketing team on 0800 158 3080.