08/12/2017
What are Christmas Marketing Gifts?
It's CHRISTMAS! For for the office workers already sipping on mulled wine and singing their hearts out to Christmas songs played on the radio. For the rest of the office without holidays to take, there's almost two weeks to go. At Redbows these weeks are sometimes filled with tight deadlines and order commitments as we work hard to get your orders out in time for Christmas. We understand the importance of marketing your business during the holidays which is why we work extended hours to help you get it right.

Christmas Marketing gifts are products with a festive theme branded with a company's logo or imprint. Sometimes this can include additional information such as an email address, slogan or contact number. We have a wide selection of Christmas Marketing Gifts including Reindeer Bugs, Gold Share tins filled with Quality Street and Square Mince Pie Tins. Below is an image of the 'Stars of our Show' with our best-selling Christmas line up for 2017. To see more visit our Christmas collection.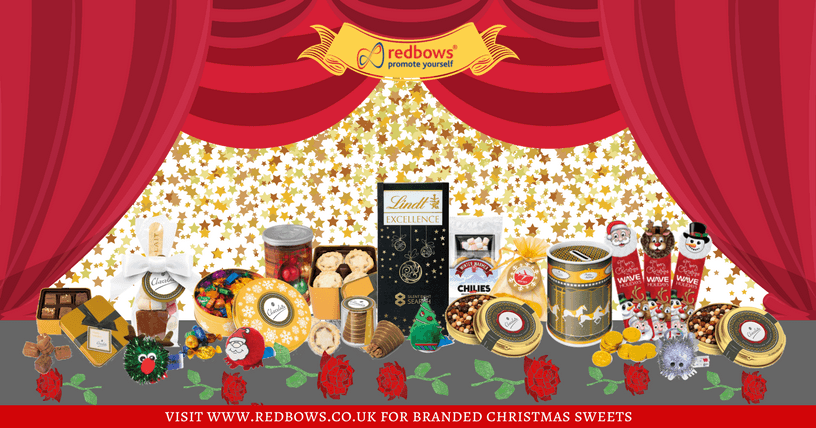 Table of Contents
Why are Christmas Marketing Gifts Important?
What Christmas Marketing Gifts should I choose?
Top 5 Christmas Marketing Gifts
Summary

Christmas Marketing gifts have the potential to increase sales for the following year if handled correctly. Christmas gifts usually only last from December to January but their purpose differs to products sent out during the year. This means they are either intended to spread some Christmas cheer or to thank clients for their continued support. Many companies aim for the smile on their customer's face once they receive their item in the post as this feel-good effect will then be associated with the logo printed on your Christmas item.
Christmas is a time for giving, spending time with family and overindulging in food you'll probably regret eating once January arrives. Whether your festive tradition involves roasting chestnuts on an open fire or listening to carols being sung by a choir; Christmas offers a fantastic opportunity for your business. We have a wide selection of Christmas products including branded Hot Chocolate Spoons, Christmas Bugs and Hampers. Many of our products are available with no minimum quantities and fast delivery times however larger quantities may take up to 15 working days.
Everyone loves receiving a gift at Christmas but what product is right for your business?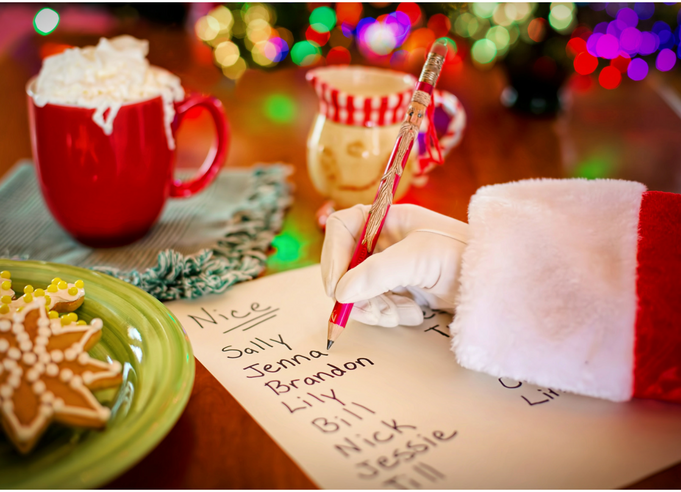 There was a time when Christmas cards were the most sought-after marketing gift leading up to the Christmas Holidays. However, times have undoubtedly changed. We now find ourselves depending heavily on the internet and the information it can offer. We have local and global news, weather information and friends contacts in the palm of our hands. Distance has become a non-existent hindrance in an online world where we now find ourselves reaching for our phones to send out Christmas greetings rather than the post box down the street. Cards were once praised for their low-cost value but how effective are they as Marketing Gifts?
The best a card can do is sit on your client's desk where it may trigger a subconscious impulse to buy something from you. At worst the card is spoken about for a minute upon arrival and again in January when the decorations are put away for another year.
A business should search for something that achieves the 'Wow Factor' and not an item that blends easily into the background. At Christmas, you need to think differently. You need to send out marketing gifts that are unique to your company and that doesn't mean you need to spend a lot. Sometimes a little can go a long way.
To help I have comprised a list of five items that will help your company stand out this Christmas.
Here is a list of our top 5 marketing gift ideas to send out to Clients.
Hot Chocolates on a Spoon- This product has been the talk of the office for weeks. Chocolate on a spoon with mini marshmallows is the perfect answer for cold winter days at the office. The product is packed into a clear bag and tied with a bow of your choice and a branded tag. Simply pour 160ml of milk into mug. Heat the milk on full power for 2 minutes in a microwave (700w) Slowly stir chocolate on stick in warm milk until all the chocolate has melted. For the final touch add the marshmallows and enjoy. Hot chocolates on a Spoon offer fast delivery times and no minimum quantities. For more information please contact us either by email or phone.
Gold Share Tins- Christmas is the perfect time for sharing chocolates in the office. This Christmas tin is filled with Quality street and branded with a domed label on the lid. The product packaging is decorated with festive snowflakes and is available in gold or white. Available fillings include gourmet Belgian Chocolate Chip Cookies, Shortbread Biscuits, Luxury Mince pies or the 'Nations favourite' Quality Street. Simply brand with your logo and send out to clients.
Gold Square Mince Pie Tins- Small – Approx 4 mini mince pies presented in a gold tin embossed with a black bow. Indulge in a buttery, crumbly mince pies with rich, mouth-watering fruit and spice. Perfect for handing out to clients or enjoying over a cup of tea in the office.
Gold Walnut Whirls- Finished with edible gold spray and presented in a clear cylinder with a personalised domed label. This timeless classic is filled with delicious vanilla marshmallow and covered in chocolate. Impress your clients with great tasting Walnut Whirls this Christmas.
Glitter Reindeer Bugs- Decorated with a red nose and card antlers on a glitter pom pom. The bug is available in 8 glitter pom pom colours and the ribbon attachment can be printed in full colour with your seasonal message. Glitter Reindeers are the ideal choice for any festive event. Christmas bugs are now available on a 48hr service from artwork approval. For more information please contact us.
Whatever you choose to do this Christmas, make sure you use the opportunity as a way of promoting yourself to others. Everyone loves receiving a gift at Christmas, so use that festive spirit to create something wonderful for your business. Simply choose from Christmas Bugs, Branded Hot Chocolates on a Spoon or Gold Share Tins filled with Quality Street and brand with your logo to create a product your customers will love. Good Luck and Merry Christmas!