02/03/2015
Your Imprint Is As Important As Your Choice of Promotional Gift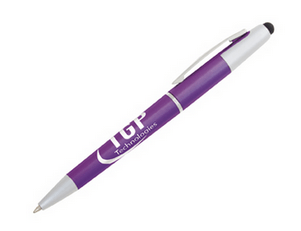 It's a marketing marriage. Marry the right imprint message with the right promotional gift and you've hit advertising paradise. So often thought it doesn't happen and the great impact you could have achieved by giving promotional gifts is lower than expected.
A lot of thought is often given to choosing the right promotional gift and its colour, shape, feel and function. Let's consider a Contour Ballpen for example. It's a great pen and is easy to hold and use. It's colour combination and options choice generally satisfies most requirements. The Venus Style Ballpen is very similar. Both have nicely sized imprint area of around 70mm wide by 10mm deep and you can print on both sides of the barrel in single or multiple colours.
Now let's take this one stage further. The Venus Stylus Ballpen is also available with a stylus end. It's a stylus promotional pen suitable for use with smart phones and tablets. Imaging taking this to a datacentre type show as one our clients recently dud. They tied the imprint into the marketing message and theme of their exhibition stand. They then handed out loads of these branded pens to visitors passing their stand and walking into the nearby conference hall for the seminar users to use to take notes. Now guess who got the most exposure for their brand at the show and for weeks afterwards.
Imagine if this same company had not thought about how to use their marketing budget at the show to give the most reach and tie together their exhibition, literature and giveaways. Simply putting their contact details and website address to the pen would have been OK but they also put the a major IT brand name on their pens (with permission) with their service contact number; the primary reason they went to the show – to get service customers.
So as with all marketing, it comes down to the right medium, message and audience to create an unstoppable moment. It's what we love to do for clients at Redbows.