16/01/2016
Getting Your Packaging Artwork Right
The secret to a great promotion is marrying the right product and artwork together to create a marketing communications product that will get your message across and reinforce your advertising and promotional campaign.
Everyday our dedicated design team work with clients to ensure that we get the best possible artwork to use with your chosen products. For more information on the types of files required see our Artwork Guidelines or contact the design team.
With some marketing gifts it is possible to also print dedicated packaging. A good example of this is food stuffs such as teas, coffees, sweets, confectionery, chocolates and boxed chocolate Easter Eggs. We have just added boxed 18g, 30g and 100g chocolates eggs to our Easter collection and these are supplied with a custom printed box.
Packaging artwork is slightly more complicated than product artwork because our graphics design team have to work with a flat template and view this as a final 3D printed format. For each product we supply with custom printed packaging, a product specific template is available. For example, for the new boxed chocolate Easter eggs, we have PDF files available that can be opened in Adobe Illustrator. When using these files to create your artwork all we ask is that you use an artwork layer if the final file is created in Adobe Illustrator. If the template PDF is to be opened in any other program, we ask that the PDF is placed in your document at the size stated in the lower left hand corner of the template and that the artwork is created in a separate layer.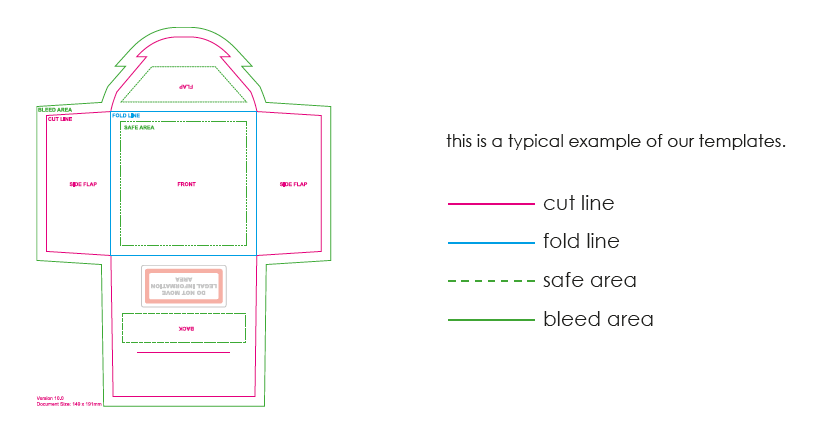 The following checklist also provides some guidance:
Document size: should be the same as stated in the lower left of the template.
Bleed: extend artwork to the green 5mm bleed line.
Safe Area: place your text and logo within the green dashed line, known as the safe area.
Graphics Position: avoid graphical elements that match fold lines, such as pin lines, borders or adjacent panels with contrasting colours.
Image Resolution: the document and any placed images must be 300dpi or higher.
Legal area: do not adjust or move the legal information area.
Before sending us the artwork please also make sure that you:
Text to outlines: please convert all text to outlines.
No Template: when sending your file please hide or remove the template. We only require your artwork. if you prefer to, please send 2 files, with and without the template.
Saving: when using Adobe Illustrator please save as an 'illustrator default'

PDF

. When using any other software save your file as a print ready pdf, ideally using the pdf/x-1a:2001 setting.
Of course our design team can do all of this for you and will check any file you send through before it goes to manufacturing. They are very experienced and can easily spot if there is something that requires attention.

For more information please view our Packaging Artwork Guide or call us on 0800 158 3080.