16/07/2015
Using Health Products To Promote Your Business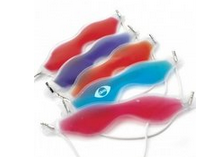 Busy professionals and working individuals can at times find the burden of general day to day work life pretty stressful. Spa breaks are all about relaxing and de-stressing which we all tend to need from time to time.
There are numerous health benefits from going on a spa holiday, from relieving stress to improving your diet, which all help you to live a more spiritual, positive, healthier lifestyle. To all have to take time out to look after ourselves, taking care of the little details we all at times forget when trying to run a thriving business and a family.
With health related promotional products being one of the fasted growing areas in the industry you don't want to miss out on this opportunity to show your clients you really care. When thinking of successful marketing giveaways that will make that lasting impression, nothing says I care quite like a product that puts their wellbeing a number one priority. Giving out promotional gifts that will make the recipient feel good about themselves is always bound to create a brand loyalty in return for your thoughtful gesture.
Down time is always a great escape from work pressures and one of the best ways to relax is lighting a candle. Promotional candles and incense gifts can create a real interest in an event, and can be a real traffic builder when presented in conjunction with a sales event. Scented, fragrant candles and incense have their own aura of romance and mystery. They make a nice little gift for both male and females that are very affordable. Promotional candles are perfect appreciation giveaways that can be used around the home, with the sweet smell reminding them every time it is lit of your company's generosity. You can even add a snappy slogan and sell them for profit in your store or boutique. Everyone enjoys a lightly scented candle to perfume the air, therefore promotional candles are one of the best loved items on the market.
Another health base promotional give that serve a great useful purpose are branded compact mirrors. They appeal to all a wide audience, but especially to the ladies who like to carry a small mirror in their bag for a quick check on a busy work schedule. They stand the test of time and brand exposure is second to none. A mirror reflects upon the giver also, and a quality promotional make up mirror with your design or message printed on them shows that your company can go beyond the normal steps to do something special for their customers. The thoughtfulness should result in brand loyalty and more additional a sales return.
Call us today on 0800 158 3080 to find out how an array of promotional health related products can help to promote your organisation or business and keep your organisation's logo in front of your clients.