29/03/2015
Tips For Choosing Marketing Gifts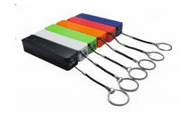 Promotional gifts are becoming a more important element within the marketing communications mix. Used as part of a company's advertising strategy, branded gifts can help to reinforce brand awareness, advert and message recall and generate a call to action.
We have spent the last decade helping organisations to develop their marketing gifts strategies. There is still a place for giveaways and mass distribution but we find that targeted promotional campaigns are far more effective today.
The first step in the promotional strategy is deciding just what to use as a giveaway. The fact is that almost anything can be used as giveaways, whether they are branded with a logo and imprint or not. In the UK most popular items are:
Promotional pens and especially stylus tipped ones for smart phone and tablet usage
Corporate clothing for firms with sales and service teams
Gadgets with the firm favourite in recent months being power banks that can charge a mobile phone
Promotional mugs made for office, travel or home
There are other favourites but some of these are seasonal. For example diaries and calendars, which still provide very popular, Easter eggs and Advent calendars.
The next thing to decide is whether to have a logo imprint or not. Not every promotional gift needs to be given with a logo on it. Sounds crazy I know but sometimes it can be a more personal imprint like a customer's or company name. Making the gift very personalised and targeted will increase your promotional marketing effectiveness.
A lot of companies and organisations do put a logo on the giveaway but don't make it too big or so dominant that it overshadows the main marketing message. Imagine a pen which has a fairly small print area anyway. Stick a massive logo on and the space available for a readable website address or contact phone number becomes very small. Our print team will always point out text that they feel is too small and in danger of infill and ask you to reconsider but this can then delay the leadtime.
Another tick box item is to make sure you get the right amount of stock ordered and at the same time don't overstock. Some marketing gifts do have a shelf life and chocolates, sweets and foodstuffs are classic examples. You really do want to make sure you order the right quantity to get the price break you want but without superfluous stock that you may end scrapping after your campaign. We do sometimes find this when clients update logos and contact details.
Gift colour is also important. Make sure that your imprint will be in contrast to the product background colour. There is nothing worse than a weak imprint whose effectiveness is lost because of a lack of contrast.
Finally think audience. It is important to strategically target the right gift for the right audience. You may love a particular product but you need to make sure the recipients will as well.