03/08/2015
Promotional Gifts and Printing Presses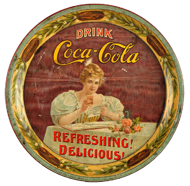 The history of promotional gifts lies in entrepreneurship, marketing, advertising and a certain amount of lateral thinking. In 1789 a commemorative button was commissioned to celebrate George Washington becoming President of the United States of America. This may well have been the first use of a promotional product and one by a political party to boot but it was some time before the industry started to take off. Unsurprisingly as with any innovation it took an entrepreneur to spot an opportunity and the person credited with being a 'founding father' of the promotional gifts industry is Jasper Freemont Meek.
Meek was a newspaper owner in Coshocton, Ohio and like any printing press owner he knew that an idle machine generated no income. So to generate extra revenue, Meek would look for additional print opportunities between newspaper editions. Without realising it Meek helped to create one of the most long lasting promotional gifts around – a branded bag.
One day, whilst walking out on Main Street, Meek noticed that children sometimes dropped their books into the dirt on then way to school. Remember at that time that roads were not tarmacked and were literally dirt with all sorts of other unwanted matter. Seeing this as an 'printing' opportunity, he visited an old friend, a Mr Cantwell who owned Cantwell Shoes and put to him the idea of branded a shoe bag for his store that the children would then be able to use to carry their books to school. Meek's incisive marketing skill was to promote the store and helps builds it traffic and generate brand recognition, all by printing an advertising message onto a burlap book bag that was given away with every shoe sale. 'Buy Cantwell Shoes' was the advertising slogan and the children helped to promote the message all over the town of Coshocton. Meek not only printed the bag using his printing presses but also manufactured the book bag. Both entrepreneurs benefited from one of the earliest marketing programs in the promotional products industry.
A further promotional product, imprinted horse covers, followed for Meek which again were seen all over the town and from there he started the first known promotional gifts supplier the Tuscarora Advertising Company. The company had their own sales force and until around 1889 had virtually no competition.
Competition was and always is fierce in the print industry. It comes as no surprise therefore that another rival promotional gifts company set up, founded by a local newspaper man in the same town. Henry D. Beach and Meek competed aggressively and took to printing on any items that would carry an advertising slogan for clients including: aprons, hats, marble bags, buggy whips, card cases, fans and calendars. It was Beach however who started to work on print methods for metal materials and both Beach and Meek perfected their processes in this area leading to metal advertising trays for the likes of Coca-Cola and beer companies that today are collectors items.
Two further print men are credited with the development of the advertising calendar however. Thomas D. Murphy and Edward Burke Osborne of Red Oak, Iowa needed a product line to keep their printing presses running. It was Osborne who had the idea to put a watercolour print of the new Red Oak courthouse onto cardboard and attach a calendar pad. This was a great success when launched and could be found in every home and office eventually. By 1884 the two of them employed over 94 staff including a travelling sales team and printed 2-3million calendars a year.
As the industry grew, so promotional product manufacturers formed a trade association and in the US in 1904 the Advertising Manufacturers Association was formed with twelve initial members. By 1906 there were 56 members and the association continued to grow with exhibitors invited to attend regular association conventions. The UK promotional gifts industry grew in a similar way with print manufacturers adopting the sales and marketing practices seen in the US market.
In UK the British Promotional Merchandise Association (BPMA) is seen as the leading industry association for distributors and suppliers covering a market worth up to £1bn annually. Redbows was one of the first Chartered BPMA distributors when this industry standard was launched and continues to play a defining role within the industry itself. View a selection of the promotional products we supply or call us on 0800 158 3080 for more information.
And the woman in the image? Well that is Hilda Clark, the first model to be featured on a Coca-Cola tray.