03/09/2015
Top Tips for Promotions Using Branded Pens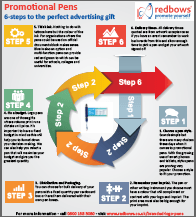 According to the latest market research by the British Promotional Merchandise Association (BPMA), pens are the number one desktop item used in promotions by companies and organisations across the UK.Even with this simplest of advertising gifts there are several things to think about to make sure your promotion is a success. Here are the Redbows Top Six Tips and infographic. Please click on the image to see a PDF of the Infographic.
Choose Your Pen Style: sounds simple but there are many choices these days when it comes to promotional pens. With the growing use of smart-phones and tablets, many clients are now opting for a stylus pen. This has a rubber tip ideal for use with smart-screens. Instead of a pen other writing instruments include pencils, marker pens, crayons and novelty pens (with banners) and highlighters. We supply thousands of sample pens every year so don't be afraid to ask for a selection. It is important that the pen feels comfortable and you cannot always judge this from a website photo. Remember to consider novelty pens as well and think a bit outside the box for exhibitions and conferences. It can be really useful to include a pen with a small notepad for example.
Remember Your Imprint: the pen or other writing instrument you choose must have a colour that will compliment or contrast with your logo and imprint. The print area must also be big enough for your imprint. Pen print areas tend to be quite small unless a full wrap imprint is offered. Some pens offer more than one position including the clip and barrel areas. Try not to pack in two much information as this will lead to a small print. Our artwork team will advise if there is a chance of ink-bleed and fill-in when we print. One off print samples are available but expensive. Most clients opt for an artwork proof.
Distribution and Packaging: you can choose for bulk delivery of your pens with a fixed quantity per cardboard box or have them delivered with their own pen boxes. Lower cost cheap pens are ideal for exhibitions and so are delivered in bulk but for more expensive pens you may want to give them to your valued clients in their own pen box and even to personalise this.
Fix A Budget: promotional pens are one of those advertising gifts where volume print runs dictate unit price. It's important to have a fixed budget in mind as this will help you to funnel down your decision-making. We can also help you select a pen that will maximise your budget and give you the greatest quantity.
Think Ink: now this is nothing to do with tattoos but the colour of the ink. For organisations where the pens could be used on official documents black makes sense. Blue is also an option and multi-function pens can provide red and green to which can be useful for schools, colleges and universities.
Delivery Times: all delivery times quoted are from artwork acceptance so if you have an event remember to work backwards from this and allow enough time to pick a pen and get your artwork signed off.
Redbows is a BPMA Chartered Distributor. For more information view the promotional pens collection on our website or call us on 0800 158 3080.