18/08/2015
Top-6 Tips For Advent Calendars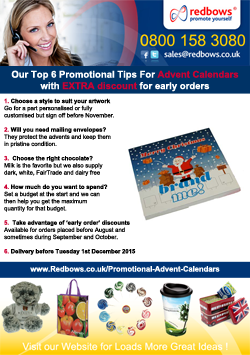 Over the last 10 years we like to think we have accumulated a wealth of experience in marketing and advertising gifts. That's not to say that there's never anything new to learn. With the rise of internet marketing, content generation and social media nothing could be further from the truth for a company such as ours.
For Redbows our advertising gifts team will start to focus now on generating Top Tips Lists and the first in this series covers promotional advent calendars. Why? Well believe it or not advent calendars are very topical in our world around this time of year as our Top Tips will explain.
So here is our Top 6 Tips for promotional advent calendars:
Choose a style to suit your artwork: with advent calendars you can go for a part personalized or fully customized product. Our part personalized advents have a range of templates for each product size and from this you select the image that best fits your marketing campaign. The template provides an imprint area into which we can print your logo and Christmas message. Alternatively with a fully customized design its as though the whole cardboard outer (and even the inner doors) are printed with your own artwork. Remember though that you really need your artwork signed off early and definitely before the last print runs in November.
Will you need mailing envelopes?: a very good question especially if you want to keep your spend down. However mailing cartons are useful as they help to protect your advents even when you are hand delivering them. As postal cartons they will protect your advents during transit. At Redbows we can provide a complete fulfillment service so all you have to do is provide us with the mailing names and addresses and our team can do the rest for you; all covered by the Data Protection Act of course.
Choose the right chocolate? now milk chocolate is the number one choice for any type of advent calendar but we can also offer dark and white chocolates, shaped chocolates, branded chocolates, Fair Trade and even dairy free.
How much do you want to spend? We always advise clients to set a budget no matter what promotional gifts they are considering. Once you have set your budget for advent calendars we can help you to maximize the total quantity that you can print from our range. If quantity is important a part-personalized calendar may be more viable than a full colour digital print custom designed advent calendar.
Take advantage of 'early order' discounts: this is important and why we talk advents during the summer months. Very often our printers are quiet in August and provide extra incentives for printing advent calendar outers during this month. Incentives can also be had in September and October but it very much depends on supply and demand from the printers.
Finally make sure you deliver on time: this year the 1st December 2015 is on a Tuesday. Make sure your advent calendars are with your clients well before this date to get the most impact.
Advent Calendars available:
For more information please call our team on 0800 158 3080 or view our promotional advent calendars collection online.
Click to view the screen size infographic for advent calendars